Home » Interior Spaces » Best Ways How To Decorate Your Wall With Decorative Plates
Best Ways How To Decorate Your Wall With Decorative Plates
With the walls being the perfect blank slate to story tell, your feelings, and mood, why not add decoration on your walls with decorative plates?
Curating meaningful plates on your wall – can both add depth and is a great way of creating a focal point in a space.
While this has become a Tik Tok trend in the past months (combined 23.4M views for 'plate decoration on wall'- this type of look is very typical in the more Scandinavian interior design style (traditional style) and something that I myself, recall even my parents having in their house when I was younger.
---
Let's jump, to see what are the best ways how to decorate your wall with decorative plates in 2023-2024.
Select Plates You Love
First and most importantly, select plates that you love, that inspire you, or evoke a specific memory or feeling.
Decorating your wall with decorative plates that have no meaning to you, will not add anything to your meaningful interior and interior concept.
But instead, curate those plates that you picked up on your travels, found during your weekly thrift shopping or that is hand-down to you from your grandparents.
Whether your pick interesting variations in patterns or colors is up to your style and taste.
What is a good tip though is to curate plates that suit your existing decor well or to add something interesting to the decor.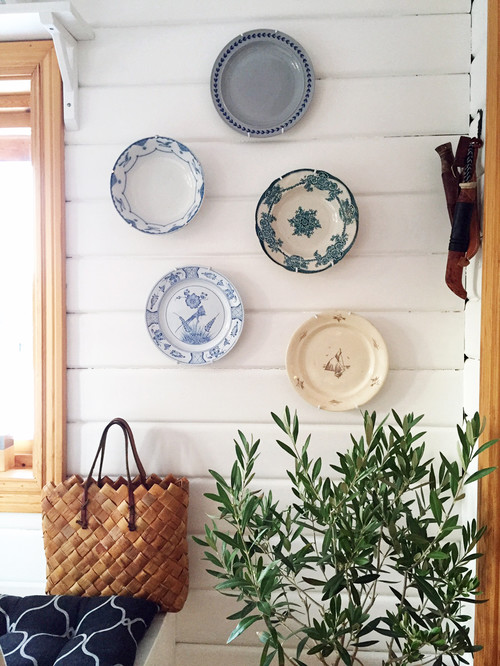 Select Which Layout and Composition
There are many different layouts and compositions that you can opt to hang your plates.
If you wish to have a more balanced approach – go for a more structured feeling by properly spacing them out in a square.
If you feel, like creating a more organic and vibrant composition, going the more artistic route and randomly hanging them in a clustered way – can create movement within your space.
Here are some other examples:
Grid Arrangement: Create a uniform feel by arranging the plates in a blocked grid arrangement. For the more stylish way to go about this, measure and use the same spacing between the plates, for a more even look.

Eclectic Cluster: If asymmetrical vibes are your thing, arranging them in a more sporadical cluster gives off a very artistic and imperfection type of vibes. This can create a great focal point and here imperfection is key!

Linear Curating: Whether horizontal or vertical line this type of arrangement of plates can create a feeling of continuity and in a hallway or longer corridor can create interest.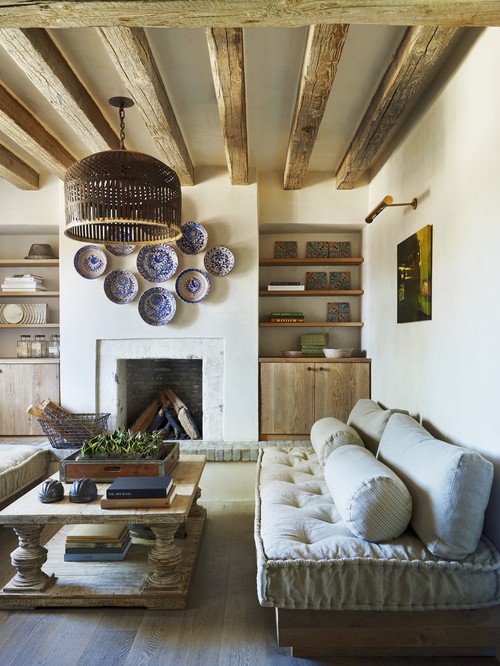 Go For Plates similar Color to Your Wall
By picking decorative plates for your wall that are the same color as your wall, you are creating a minimalistic feel while still adding texture and depth to the wall.
This type of look I see goes really well in the modern Mediterranean interior style or even in the modern Scandinavian interior style.
Mixing With Other Decor Pieces
Mix it up and create a visual story within your space by juxtaposing the ceramics from the plates with other decor pieces out of other materials, like wood, or rattan.
This will give the space a more eclectic feeling and can work very well in a bohemian interior space.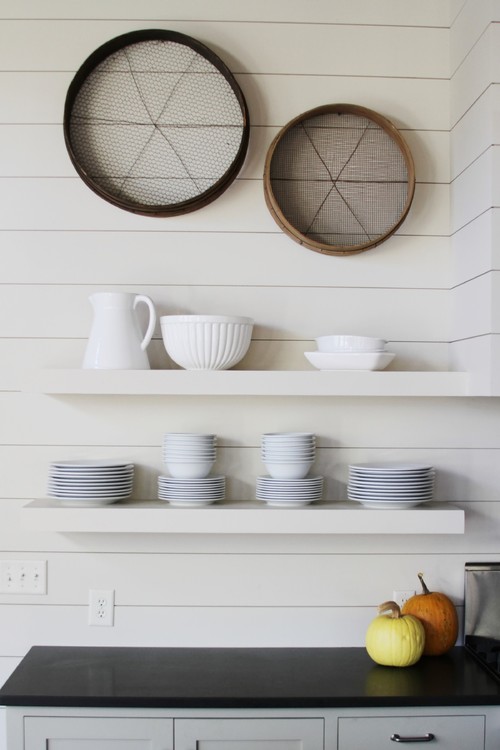 Use Same Plate Pattern
Keep it simple and monotonous by using the same pattern on each plate instead of varying them.
You can pick here if you wish to create variety in regards to colors or if you keep the colors and pattern the same.
Depending on preference and what mood and story you are after – there are plenty of options, and this look can both be vibrant and fun – especially if a variety of color is picked.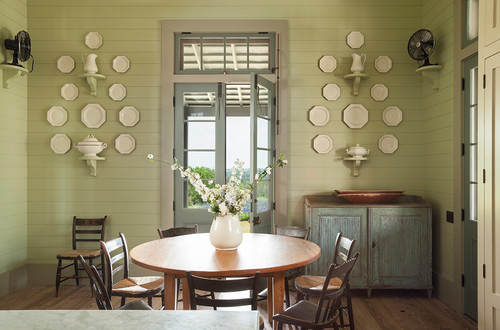 Hope you enjoyed our top 5 tips on how you can create some interest and meaning to your walls by decorating it with plates.
Caroline Broman
I am Caroline, an ex interior design consultant, turned into a content creator, 30+ something Swedish born with an insane passion and interest for design, blogging, and living a meaningful and creative life. Design to me is about creating a (your) story – it is about understanding what matters and how to create something unique and meaningful which speaks and motivates you.